Regular price
$10.99 USD
Sale price
$7.69 USD
Unit price
per
Sale
Sold out
Size Chart
Although, we do have a couple of pantyhose styles with open toes, we were quite excited to find these open-toe thigh-highs. These sheer open-toe thigh-highs will be perfect for special occasions when you need to have your legs covered but would like to wear your open-toe shoes. The tops are finished with a beautiful 5-cm lace band and silicone strips to hold the thigh-highs in place. The 15 Denier thickness is ideal for Spring and Summer and more durable than 8 Deniers. The high content of elastane will provide plenty of stretch.
15 Deniers
Fabric content: 79% polyamide, 20% elastane, 1% cotton
Made in Poland
Share
View full details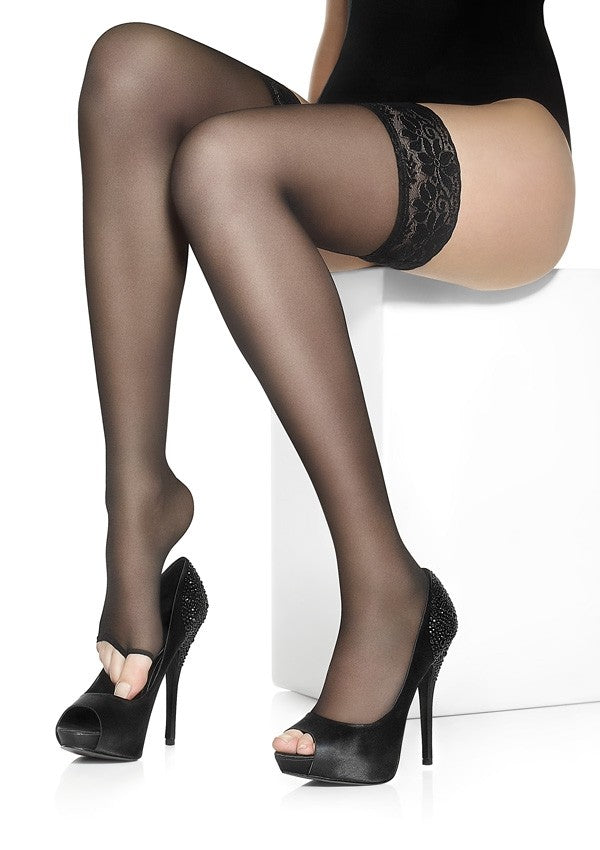 One of my Favorites
These thigh-highs are so comfortable and sexy. You don't have to worry about your stocking toes in open-toed heels because they are open-toed! They are also so sleek!
Review
The stockings are a jewel of a find for me. I love thigh highs and these are the best quality I have encountered and the Visone color matches my feet and legs beautifully. I also ordered the beige, which is a beautiful color for a little later in the summer when I have some color. This is a great product for women who want to show their summer pedicures but have legs that are a little less than "perfect"!